Name: Carly Pope (Pope not Hope)
Birth-date: August 28, 1980


Birthplace: Vancouver, British Columbia, Canada
Looks: Beautiful


Education: Attended University of British Columbia in Vancouver, British Columbia, for one semester
Siblings: Carly is the middle of 2 brothers
Enjoys: Long Walks


Hobbies: Writing Poetry and Reading


Claim to Fame The series Popular as Sam, a social outcast whose mother becomes engaged to popular cheerleader Brooke's father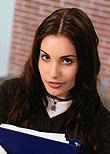 More details:
I take it that Carly is intentionally staying "in your face", excuse the pun, with her talent and outstanding, though maybe confusing, choice in movies.
So where did it all start?
Carly says "Acting was always an innate ambition," and growing up in the middle of three children she feels that it was where she belonged. Carly trained in another productive art form, dance. She continued with this artistic form of expression until she entered Lord Byng Secondary School when she proceeded to study drama. Need I say in an advanced program.
It seems inevitable that an agent saw her in a school stage production, obviously liking what he saw. This brief encounter led to Carly's screen debut in an independent children's film, "Cowboys and Aliens," filmed on location in distant Eastern Europe. Well who says Europe isn't a nice place?
I live here after all. Come visit!!
Didn't she decide to go to University?
On return the budding young star and beauty enrolled at the University of BC in Vancouver for a semester, fortunately but maybe unfortunately, demand for the gifted young actress was already heating up. Of course giving up University is something we don't want to do, but to be honest, I think this was a wise choice on her part, although University would have been a good fall-back.
Carly's fast-rising career took off when she won a starring role in the upcoming Showtime feature film, "A Cooler Climate," with Sally Field (Mrs Doubtfire) and Judy Davis and directed by Susan Seidelman. Carly also appeared in the upcoming Paramount release "Snow Day," a children's comedy with Pam Greer and (the irrepressible) Chevy Chase.
Carly also, naturally, assumed the leads in the ABC television movies "Our Guys" and "Purple Haze".
So what about "Popular"?!?
In the series Popular, Carly tackles her first role as a series regular. Carly compared her character, Sam, to "a builder, or a contractor. She has all the right tools, but doesn't know how to use them properly." Sam doesn't realize yet just how unique she already is. "She's trying too hard," continued Pope. "Her actions don't match up to her convictions, and that's what she still has to learn."
From the looks of things it seems that Carly is nothing like her character in Popular !!
But why didn't she play a popular Character?
"I originally read for the part of [head cheerleader] Brooke, but I realised I didn't really believe myself in that role". Although Carly thought this, what did the executives think? "...they asked if I'd read for the part of Sam instead". Looks like they thought the same as Carly did!
What does Carly think of popularity?
"There are always these people who are popular for the wrong reasons - for materialistic reasons or because they have the right boyfriends". Just like her character, Sam, Carly has the same attitude towards popularity, "The whole thing is extremely baffling!"
What else do you know about Carly?
Carly often returns to Vancouver to spend time with her brothers, with whom she is very close. While she enjoys long walks, writing poetry (don't we all?!?), and constantly reading, she plans to learn how to play the guitar. Carly Pope's favourite songs include "Let's get it on" By Marvin Gaye and "Sugar in my bowl" by Nina Simone. Her favourite movies include "Rebel without a cause" and "Citizen Kane"...(All you crazy fans get renting!!!).
What can I say to top this uniquely written biography off?!? Oh yes...She currently resides in the City of Angels
How appropriate. =)
Did you know?
(Courtesy of Carly-pope.com via Teen People Magazine)
At Carly's graduation, she wore an outfit that didn't fit her physique well. She had on a tube top under a blazer, and as she was walking across the stage the tube slid down to her waist. She covered herself up, so nobody actually saw it fall, but when she got back to her seat, she had to maneuver the tube back up again, and her friends were all laughing at her.

Well we all have to start somewhere!!! ;)
-Kamran (Webmaster Carly-Pope.co.uk)